Join Us for Coffee and Conversation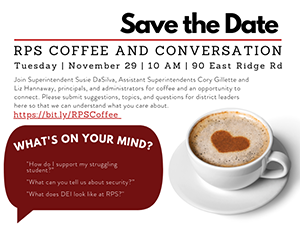 RPS Coffee and Conversation will be Tuesday, November 29 at 10:00 a.m. at 90 East Ridge Road. 
Join Superintendent Susie DaSilva and Assistant Superintendents Cory Gillette and Liz Hannaway, principals and administrators for coffee and an opportunity to connect. Please submit suggestions, topics, and questions for district leaders so we can understand what you care about. 
What's on your mind? How do I support my struggling student? What can you tell us about security? What does DEI look like at RPS?